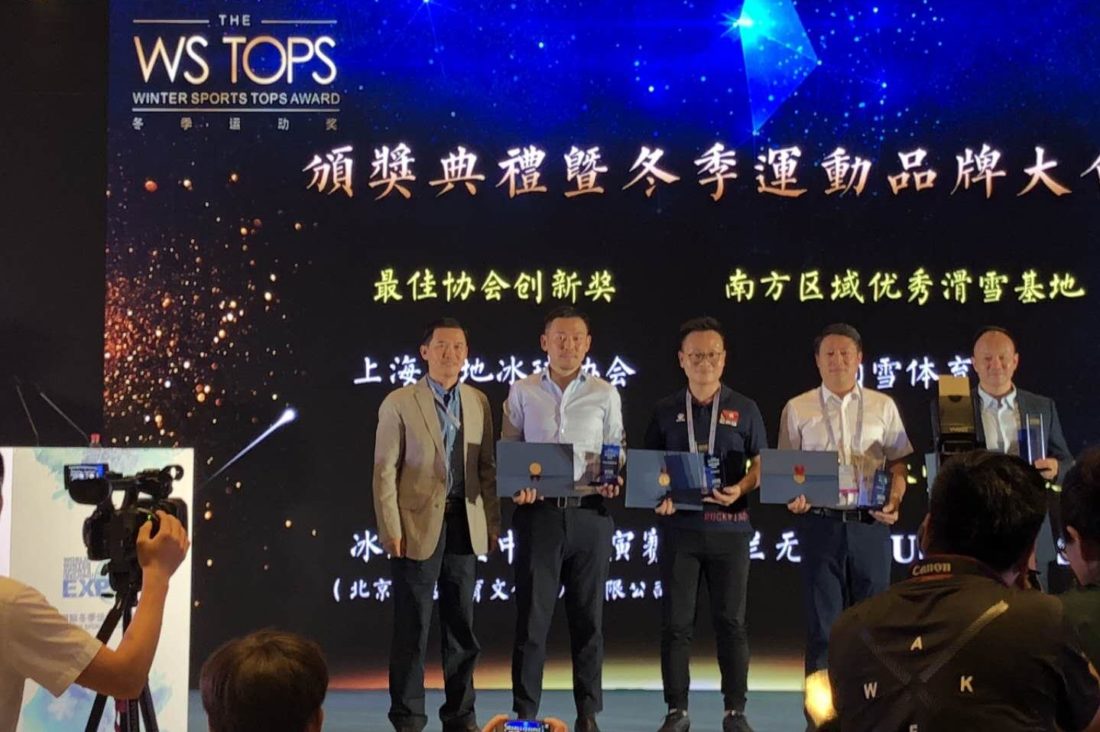 Unlimited Snow Wins WS TOPS Award "Best Foreign Design of Indoor Snow/Ice Park"
Unlimited Snow just won the WSTOPS award of 'best foreign design of indoor snow/ice park'. This is the most influential award in the snow and ice industry of China. In the past 4 years, Unlimited Snow has designed a number of indoor snow and ice parks across China including Shanghai Winterland, Wuxi Wanda Ski Park, Kaifeng Yinji Snow Park
---
In order to help to organize the 2022 Winter Olympics, discover and cultivate outstanding brands of ice and snow industry, and provide more detailed and accurate information for industrial development, the third WSTOPS Winter Sports Awards (hereafter referred to as WSTOPS) expert review meeting hosted on August 31st in Beijing, jointly hosted by BING XUE TOU TIAO, International Data Group(IDG), and Huateng Bingxue.
The jury consists of experts and medias from the industry of ice and snow, sports, tourism, science and technology, and culture, together evaluates the leaders of Chines winter sports and ice and snow industry development.
The WSTOPS has been successfully held for two years and has gradually developed into an influential selection event in the industry. WSTOPS continues to be supported by a wide range of ski resorts, ice rinks, ice and snow clubs, and winter tourist spot. Also dozens of overseas resorts and organizations participated in the Jury for the first time. From July 9 to August 20, nearly 500 facilities and individuals consulted and participated in the awards selection. After further screening, more than 100 facilities were successfully selected and entered the final review meeting, where the expert judges shortlisted facilities according to five aspects: influence, development, organization, contribution, and service.
The jury consist five categories of awards: outdoor ski resorts, ski clubs, indoor ski resorts, ice clubs and industry awards. The review meeting also displayed graphic and text sources online by real-time live broadcast. Until the end of the meeting, a total of 18,485 people watched the 2018 WSTOPS review meeting.
Hou Minghui, founder of BING XUE TOU TIAO and general manager of Huateng Bingxue, said that the WSTOPS will continue to explore and highlight the outstanding brands and leaders of China's ice and snow industry, exhibit and promote the frontier dynamics of the ice industry and to the public, with a selection concept of profession, authoritation, objectivity and comprehensiveness. At the same time, the organizers will further improve and optimize the awards category, selection rules, organization and other aspects by considering on the opinions of experts, scholars practitioners related to ice & snow industry.
According to the arrangement, the 2018 WSTOPS will enter the online public voting session from September 3. Finally, the comprehensive scores judged by public and experts will together to determine the winner of each categories of TOPS award this year.
Source: http://sports.people.com.cn/n1/2018/0901/c408080-30265823.html